47_0_3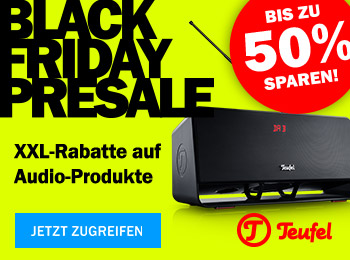 Black Friday Presale
XXL-Rabatte bei Teufel
Schnäppchenjäger aufgepasst! Bei uns gibt es schon vor dem Black Friday exklusive XXL-Rabatte auf Audio-Produkte. Aber: Nur so lange der Vorrat reicht. Schnell sein wird belohnt!
>> Hier Angebote sichern
Kategorie: Lautsprecher Stereo
---
Ausstattungsliste: SV Sound Ultra Tower
---
Ausstattung & technische Daten
Loudspeaker Physical Description
Floor Standing Tower Loudspeaker
Dimensions: 45" (H) X 13.8" (W) X 16.25" (D).
Weight: 75.4 pounds.
Piano gloss black finish.
Dual gold-plated 5-way binding posts.
3.5" wide-flared rear-firing port.
Cloth grille with pin/cup retention system.
Driver Array and Technical Highlights
1" tweeter:
FEA-optimized diffuser for airy and unveiled presentation.
Aluminum dome delivers exceptional transient response and exceptional stiffness/mass ratio.
6.5" midrange driver:
Composite glass-fiber cone with excellent stiffness/mass ratio for high sensitivity and pistonic behavior beyond pass band.
Aluminum shorting ring to reduce gap inductance, lower distortion, and enhance high frequency response.
Cast aluminum basket to ensure precise alignment of critical components and additional heat-sinking capacity.
Vented voice coil former to minimize air compression artifacts at high drive levels.
8" woofers:
Aluminum shorting rings to reduce gap inductance and lower distortion.
Long stroke motor and suspension for high output.
Vented voice coil formers to minimize air compression artifacts at high drive levels.
ForceFactor Woofer Array
Dual 8" side-firing horizontally opposed Ultrasonic woofers results in mechanical force cancellation, enhanced modal density and reduced distortion for a smooth, accurate bass at all listening locations.
SoundMatch Crossover Network
3.5-way crossover with premium-grade capacitors, air-core inductors and heavy-trace printed circuit boards.
Unique tapered midrange array miniimizes off-axis lobing and enhances radiated sound power into listening space.
Top midrange-to-tweeter crossover: 2 kHz.
Bottom midrange taper frequency: 700 Hz.
Dual midrange-to-woofer crossover: 160 Hz.
Cabinet Construction Technical Highlights
Separate sealed midrange enclosures minimize top-to-bottom wall dimensions and shift standing waves beyond the driver pass band, minimizing negative driver interaction and associated frequency response degradation.
Non-parallel cabinet panels reduces axial standing waves within the cabinet, reducing frequency response coloration.
Acoustically transparent and FEA optimized grilles, wedge-shaped front baffle and flush-mounted drivers all contribute to reduced edge diffraction and improved on-axis high frequency response.
FEA-optimized bracing reduces cabinet resonances.
Frequency Response and Electro-Acoustic Data
Rated bandwidth: 28 Hz-32 kHz (+/-3 dB).
Nominal impedance: 8 ohms.
Sensitivity: 88 dB (2.83V @ 1 meter full-space, 300-3kHz).
Recommended amplifier power: 20-300 watts.