57_0_3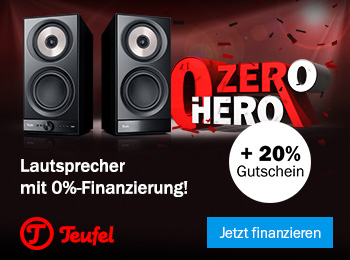 Lautsprecher mit 0%-Finanzierung
Zusätzlich 20% Gutschein auf fast alles sichern
Zero Hero bei Teufel. Nutze jetzt unsere 0%-Finanzierung auf alle Audio-Produkte. On Top gibt es noch einen 20% Gutschein auf ausgewählte Produkte. Damit kannst auch du dir Hifi-Sound der Spitzenklasse leisten!
>> Hier Angebote entdecken
Kategorie: Lautsprecher Stereo
---
Ausstattungsliste: Zu Audio Essence Bookshelf
---
Ausstattung & technische Daten
Specifications
Description
Essence is a high effi ciency, high output, direct radiating bookshelf loudspeaker. It features a full-range Zu designed and built driver with no crossover or fi lters on full-range driver,
complimented by a high output transformer coupled ribbon tweeter to provide the sparkle and resolution from 10 kHz and up.
Production
January 2011
Dimensions H W D
18 x 11 x 11 [46 x 28 x 28cm]
Weight
33 pounds [15kg] // may vary with finish selection
Packaged
FlexPak foam encapsulated
Bandwidth
48—40,000Hz
Efficiency
97dB SPL @ 1W, 1m
Impedance
12Ω, nominal full bandwidth
Horizontal Listening Window
45°
Vertical Listening Window
40°
Recommend Listening Distance
4 feet [1m] or more
Recommended Connector
1/4" fork spade [6.3mm] or oversized 5/16" [8mm] fork spade
Accepted Connectors Via Adapter
the above plus bare wire (banana plugs in a pinch)
Internal Cabling
Zu Mission cable harness, pure copper, approximate conductor area is 13AWG per charge
Power Recommendations
2—8 watt (average room, moderate volume)
8—32 watt (large room, loud listening)
32—90 watt (large room, concert levels)
200 watt (maximum input power)
Amplification Considerations Component
all types, tubes and solid-state, anything that sounds good.
Component Tolerance
drivers 1% pair matching, 0.01% on electrical components
Tweeter Detail
1x TB-1855S-B ribbon, fi nal foil adjustment and assembly by Zu // bandwidth: 12k—40kHz+
High-Pass Detail
2nd order bessel @ 18kHz (12kHz acoustical) Kimber Kap 2uF + 2.0mH
Full-range Driver Array Detail
1x Zu260FRD/G4/ESSENCE full-range driver // bandwidth: 30—12kHz (direct and unfi ltered)
Cabinet
MDF / Baltic or Finish birch
Spike / Feet Insert Thread
3/8–16 TPI, 9/16" hex nut, 14mm wrench can be used
Included With Loudspeaker Pair
2x hard press-on full-range driver covers, installed
1x connector cleaning kit, 1x fi nish cleaning cloth, 1x instruction booklet
Loudspeaker Options
custom fi nish work, actively amplifi ed via Hypex AS2.100
Life Expectancy
40 years; cabinet, and the Zu 10" drivers; 15 years on TB-1855S-B ribbon (foil will likely need replacement)
Manufacturers Country Of Origin
U.S.A. all parts and labor excluding the TB ribbon tweeter which is a product of Taiwan
Compliances of Directives
RoHS | CE | WEEE
Warranty & Service
5 years limited on cabinet and drivers—warranty does not cover misuse, abuse, components upstream from the loudspeaker system, modifi cations or non-factory service.