47_0_3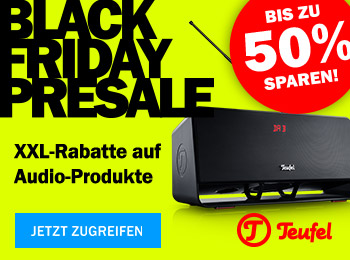 Black Friday Presale
XXL-Rabatte bei Teufel
Schnäppchenjäger aufgepasst! Bei uns gibt es schon vor dem Black Friday exklusive XXL-Rabatte auf Audio-Produkte. Aber: Nur so lange der Vorrat reicht. Schnell sein wird belohnt!
>> Hier Angebote sichern
Kategorie: Stereovorstufen
---
Ausstattungsliste: Absoluta Tersicore
---
Tersicore
Final stereo
Stereo power amplifier with "infinite slew" current transfer circuit and "quiet overload" protections. the power stage is based on a topology in which the input signal is translated into a current which is amplified and then fed to the load connected to the output.his amplification method allows for the overcome of the typical limitations of voltage amplifiers.
Particularly, it is most effective on high power transient response, due to the absence of the slew effect. The use of the current transfer circuit delivers amazing dynamics, an absolute tonal coherence at all listening levels and an easy match with every kind of speakers.
The Tersicore stereo power amplifier is provided with both balanced and single-ended inputs, the latter with both non-inverting and inverting facility. This allow for easy bridge connection of two monoblocks and absolute phase restoring when using an inverting preamplifier. This feature gives the user the possibility to always listen to the music with its original phase.
Ausstattung & technische Daten
Type
bipolar transistor stereo power amplifier
Circuit
"infinite slew" current transfer circuit and "quiet overload" protections
Supply
ultra-low noise toroidal transformer. Ultrafast, soft recovery rectifiers;
non-inductive fuses for semiconductors
Audio inputs
non-inverting single-ended (RCA), inverting single-ended (RCA), balanced (XLR)
Audio outputs
speaker (binding posts suitable for bananas, spades, lugs)
Services
trigger in (jack 3,5mm, 12VDC-50mA), trigger out (jack 3,5mm, 12VDC-250mAmax.)
Output power
100W @ 8 Ohm, 200W @ 4 Ohm,350W @ 2 Ohm (continuous, 10Hz-300kHz)
Frequency response
5Hz-400kHz (150W @ 8 Ohm, +0/-1dB)
Slew rate
>160V/us (100Vpp @ 8 Ohm)
Signal-to-noise ratio
115dB (linear, ref. 36Vrms out, 20Hz-20kHz)
Harmonic distortion
0,003% (1W @ 8 Ohm)
Intermodulation
0,012% (1W@ 8 Ohm, 15kHz + 16kHz)
Stability
intrinsic absolute (single-pole circuit)
Gain
20x (26dB)
Input impedance
47 kOhm (single-ended), 100 kOhm (balanced)
Power consumption
700VA
Size
L cm 37 x H cm 16 x P cm 47
Weight
23,5 Kg