47_0_3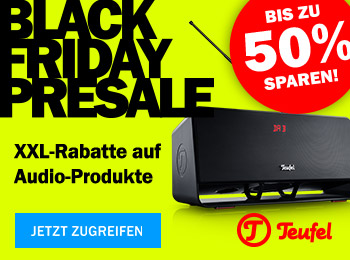 Black Friday Presale
XXL-Rabatte bei Teufel
Schnäppchenjäger aufgepasst! Bei uns gibt es schon vor dem Black Friday exklusive XXL-Rabatte auf Audio-Produkte. Aber: Nur so lange der Vorrat reicht. Schnell sein wird belohnt!
>> Hier Angebote sichern
Kategorie: Docking Stations
---
Ausstattungsliste: Altec Lansing inMotion Air - IMW725
---
Ausstattung & technische Daten
Description
No cables, no docks, no complications – just true wireless freedom. The inMotion Air universal wireless speaker uses Bluetooth technology to connect with your: Laptop, iPad, iPod, iPhone, DROID Phone, Blackberry device, Smart Phone
Music is a natural part of your daily life. So why should you be chained to a desk anytime you want to experience it? With the inMotion Air you can listen to room-filling sound on your computer anywhere in your home.
Just connect our USB transmitter to your computer, choose your playlist and take the inMotion Air where ever you need to go.
The wireless transmitter sends your computer"s audio through the air and into your speaker up to 300 feet away! You can also pair the speaker to your iPod touch, iPhone, iPad and most other stereo bluetooth devices for added musical freedom!
Features
Play your music wirelessly from you computer using our USB transmitter (no software required): Up to 333 ft (100 meters) range
Stream music wirelessly from your iPhone, iPad, smartphone and other stereo Bluetooth device: Up to 33 ft (10 meters) range*
apt-X technology works within Bluetooth to deliver CD quality audio
Surprisingly deep bass
Portable — Rechargeable battery delivers up to 7 hours of playing time
Full-featured remote controls main functions in iTunes, Windows Media Player, and most other music players
Convenient carry handle
Plug any audio device into the AUX jack (cable not included)
*For mobile phone with stereo Bluetooth (A2DP) feature only. Stereo Bluetooth or A2DP protocol enables the wireless transmission of full stereo sound to other Bluetooth devices.
To determine whether your mobile phone is equipped with A2DP-enabled Bluetooth technology, consult your mobile phone packaging, user"s manual, or manufacturer"s website.