43_0_3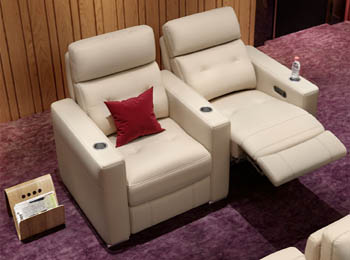 Heimisches Kinozimmer
Luxuriöses Heimkino modern und bezahlbar
Die hochwertigen Sessel und Sofas der Serie "Matera" von Sofanella schaffen ein gemütliches und bequemes Heimkinoerlebnis.
>> Mehr erfahren
Kategorie: Zubehör Heimkino
---
Ausstattungsliste: van den Hul VIDEOLINK 75
---
Ausstattung & technische Daten
Specification
Cable Type
Coaxial
Conductor Material
High purity dense Silver coated high purity Matched Crystal OFC
Design Purpose/ Application Area(s)
Video and RF signal transport; Measuring equipment interconnect; Digital SPDIF interconnect
Eff. Conductor Ø/Eq. AWG No./Strands
Core: 0.212 mm² / Core: ~AWG 24 / Core: 12; Screen: 96
External Diameter / -Dimensions
7 mm.
Resistance 20 °C / 68 °F
Core: 8.4 Ohm/100 m.; Screen: 1.2 Ohm/100 m.
Capacitance
56 pF/m.
Characteristic Impedance
75 Ohm
Insulation / Dielectric Strength / Test Voltage
Core: High density Polyethylene; Jacket: HULLIFLEX ® / 300 Vrms min.
Connector Types Suitable
Amphenol, our BNC type BNC - 7.0 and our slim body* RCA type connectors; The latter two custom mountable on ordered lengths.
Television style coaxial plugs (male and female, metal screened, right angled (elbow type), high quality Hirschmann brand); Mounted on ordered lengths of "Antenna" version.
Standard Sales Units / -Lengths
100 m. reels; Single packed with BNC or slim body* RCA (unbalanced) connectors in 0.6, 0.8, 1.0, 1.2 and 1.5 m. lengths;
Six lead packed sets for AV applications with slim body* RCA (unbalanced) connectors in 0.6, 0.8, 1.0, 1.2 and 1.5 m. lengths;
Single packed "Antenna" version with television style coaxial plugs for antenna/cable TV and radio connections in 1.0, 1.2, 1.5, 2.0, 2.5, 3.0, 4.0 and 5.0 m. lengths. Larger lengths can be made on special request.
Jacket Colours Available
Light blue
Remarks
Our The TRIAXIAL Professional 75 Ohm is a technically extended version of this cable. Our VIDEOLINE 75 is a smaller diameter and more flexible version of this cable.
*: In RCA connector terminated version the cable comes with our so-called "slim body" connectors.
These high quality connectors have been specially designed to also allow problem free insertion in countersunk RCA receptables as sometimes found at the rear of A/V equipment.
Our slim body RCA type connectors furthermore are heavy gold plated and have a coloured channel identification ring.