57_0_3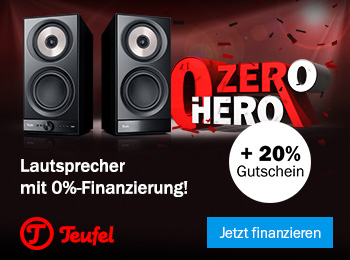 Lautsprecher mit 0%-Finanzierung
Zusätzlich 20% Gutschein auf fast alles sichern
Zero Hero bei Teufel. Nutze jetzt unsere 0%-Finanzierung auf alle Audio-Produkte. On Top gibt es noch einen 20% Gutschein auf ausgewählte Produkte. Damit kannst auch du dir Hifi-Sound der Spitzenklasse leisten!
>> Hier Angebote entdecken
Kategorie: Lautsprecher Stereo
---
Ausstattungsliste: Von Schweikert VR-9SE Mk2
---
Ausstattung & technische Daten
Specifications
System Type
Dynamic-driver six-way system using acoustic suspension and a two-piece stacked enclosure system; adaptive room correction supplied for accurate sound in any environment.
Woofer Tuning
Acoustic suspension design yielding the tightest mid-bass and sub-bass reproduction possible, without the added problem of "one note bass", often associated with vented designs.
Large subwoofer cabinet design enables accurate sub-bass reproduction down to 13Hz. On-board high power amplification allows for incredible dynamic range, as well as custom-tailoring adjustments for varying room conditions.
Cabinet and Bracing
A two-inch thick front baffle, sidewalls, and rear baffle provides exceptional vibration control and image solidity, while one-inch HDF interlocking braces provide exceptional rigidity and freedom from boxy colorations.
The internal damping consists of thick acoustic felt lining, foam, and Dacron stuffing to eliminate cavity resonances. Large locking casters are provided for ease of movement.
Size (per channel)
Height: 50″, Width Front: 11″, Width Rear: 18″, Depth: 30″.
Weight (per channel)
Woofer module: 255 lbs each, M/T module: 95 lbs., Total Weight Per Channel: 350 lbs.
Driver Complement (per channel)
15″ Kevlar-Nomex honeycomb subwoofer, 8.5″ magnesium mid-basses (x2), 7″ carbon Kevlar-cellulose Aerogel midrange driver, 1.5″ silk dual-concentric ring tweeter, 5″ aluminum ribbon super tweeters (x2). All drivers use a propri
Crossover
Proprietary film and foil capacitors, air-core inductors, military-spec film-foil resistors. Crossover points and architecture are classified.
Binding Posts
Two sets of five-way terminal posts enabling tri-wiring. Single wire can be used direct to M/T with jumpers to the woofer cabinets.
Ambience Driver
Rear-firing 5″ aluminum ribbon. Ambience circuit uses Dimensional Control (effects level) to compensate for room acoustics and soundstage depth.
Provides a Global Axis polar response pattern to simulate live musical reproduction.
Fine Tuning Adjustments
Subwoofer level control and frequency tuning variable from 50Hz to 100Hz (set flat at 75Hz, volume at 10 o'clock).
Front tweeter level control adjustment centered at 4kHz with 3dB gain and 18dB cut. Front super tweeter level control adjustment centered at 20 kHz with 10dB gain and 11dB cut.
Subwoofer Amplifier Power
1000 watts rms Class D technology (one for each subwoofer). System total is 2000 watts rms, 4,000 watts peak.
Frequency Response
10-100 kHz, +/- 6 dB (16-50 kHz +/- 3 dB)
Impedance
6 ohms avg. (8ohm M/T; 4ohm Woofer)
Recommended Power
20 watts up to 1000 watts (music power).
Sensitivity
94 dB @ 1w/1m using 2.83 V. (96 dB with subwoofer and super tweeter boost settings).
Finishes
Hi-Gloss Piano Black. Premium finishes available, please call for quotation.